One of my favourite passages in the Bible is the episode popularly known as the 'Cleansing of the Temple'.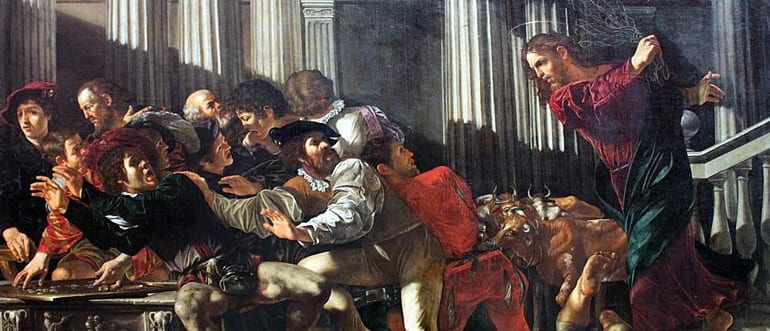 It is mentioned in all four canonical gospels (Matthew 21:12-13; Mark 11:15-17; Luke 19:45-46; and John 2:13-16) of the New Testament. Jesus and his disciples travel to Jerusalem travel for the feast of the Passover to Jerusalem, where Jesus expels the merchants and money-changers from the Temple ("my Father's house"), accusing them of turning it into "a den of thieves."
This is the only documented episode in the life of Jesus Christ that I'm aware of where He really gets angry. Incidentally, in the course of my current reading (about a completely unrelated matter – the Silk Road, of all things), I'm learning more about the "hypostatic union" of Jesus Christ, the union of the humanity and the divinity of Jesus Christ in one individual existence.
This particular episode speaks to me of the human nature of Jesus Christ, perhaps more so than all the others. It's a feeling, an emotion we can all relate to.
Another reason that this passage came to mind was that it found mention in the sequel to the episode I had written about some weeks ago ("The Confessional, the Consulting Room and the Casino"), in the excellent television drama series 'Broken' featuring Sean Bean as Fr. Michael Kerrigan serving a small-town England parish.
In his Sunday homily, he uses this passage to illustrate the "righteous anger" that propelled Jesus to action. The trigger for his sermon is a situation all too familiar to us in Goa, a society whose moral fabric is torn asunder by the evil "business" of gaming and gambling. Seeing it consume two generations within a single family, Fr. Kerrigan feels he cannot be a bystander any more, and he speaks out eloquently against it.
The casino industry has become in a very short time so deeply entrenched in our society that all of us are just a few degrees of separation away from it. Although I haven't yet set foot in one, I know within my circle of acquaintances several people who frequent it, or are even employed in it, albeit peripherally, in the live music entertainment side of things. Some friends of friends of friends even own some of these establishments.
Some riverboat casinos apparently even offer crèche and childcare facilities, offering dubious "family outings" and "fun for the whole family". Really? What message does it send to our children, that hard-earned money is to be frittered away on games of chance?  Exposure to gambling during childhood or the teenage years increases the risk of developing compulsive gambling, according to the Mayo Clinic. Do we realize the harm we are unwittingly exposing our children and youth to, each time we go on one of those "fun-for-the-whole-family" excursions?
Several studies have shown that though many people participate in gambling as a form of recreation or even as a means to gain an income, gambling, like any behavior that involves variation in brain chemistry, can become a harmful, behavioral addiction. Behavioral addiction can occur with all the negative consequences in a person's life minus the physical issues faced by people who compulsively engage in drug and alcohol abuse. In typical addiction behaviour, reinforcement schedules may also make gamblers persist in gambling even after repeated losses. Gamblers gamble more money to try and win back money that they have lost and some gamble to relieve feelings of helplessness and anxiety.
This is why organized crime around the world finds the whole industry of casinos and gambling extremely lucrative. The Sicilian mafia families in the US, the Cosa Nostra, notably the Lucchese crime family operating out of New York, typically would allow gamblers lines of credit and charge high percentage rates known as vigs to be paid weekly. Late or missed payments would result in visits and threats from such crime family members.
I have no idea of the inroads that organized crime has made into the gambling industry in Goa, but I wouldn't be surprised if their presence is already being felt.
Those of us who live in the vicinity of these dens of vice will have first-hand knowledge of the maelstrom of other nuisances that come along with it. Let's start with "disturbances of the peace." We've lost count of the number of times each month one's sleep is disturbed by revelers returning from sessions at the casinos, or by staff returning from their late shift to their vehicles parked in residential areas (because casinos either don't have any parking facilities, or not sufficient to cater to all their staff and clients), and the number of times one even has to call the police when they persist in noisy activity (loud music from their car stereos or phones, smashing of bottles on the pavement) despite being asked politely not to do so.
Or the bare-faced cheek of the traffic police in clamping the vehicles of residents whose parking spaces in front of their own houses are usurped by tourist taxis and out-of-town registration vehicles, while the latter never get clamped. The parking nightmare in central Panjim, usually bad enough in the daytime, used to ease off after dusk, but not anymore. In fact, the long holiday weekends are the worst, as "casino tourists" from neighbouring states descend upon Goa like moths to a flame, attracted by "deals" offered by these establishments.
Then there's the whirlwind of garbage, broken glass bottles, empty plastic bottles etc left in their wake. The volume of litter has increased exponentially in tandem with the arrival of the casinos here. Let's not even begin on the raw sewage and other trash still dumped daily into the Mandovi by riverboat casinos, whether by staff or clients, in violation of all pollution laws.
Even if one speaks to taxi-drivers who spend nights in their vehicles as they wait for clients to return from the casinos, although they depend on it for their livelihood, the irregular hours inevitably take their toll, disrupting their family life and biological clock. Many of them openly confess they wish there were a better way than this to earn a living.
The purpose of this column is not to demonise those who depend directly or indirectly on casinos for their livelihood, but simply to ask ourselves: how did we get here? At what cost, in every sense of the word, social, moral, individual and community health, and damage to the environment?  And do we keep throwing "good money after bad", simply because we are now at this pass? Isn't it time to introspect and ask if there are other, better ways brand Goa can attract good wholesome, clean, sustainable manageable-volume tourism than this? This whole "we-have-to-carry-on-because-jobs-depend-on-it" argument is a spurious one. If any industry harms a society or its environment, it should be called into question.
Will we collectively do something about this? I'm no betting man, but I'd like to wager we will.
(An edited version of this article was published on 21 October 2018 in my weekend column 'On the Upbeat' in the Panorama section of the Navhind Times Goa India)