The demise of my father was so sudden and dramatic, that almost two decades later, it still seems surreal. I had been in the UK for two years almost to the day in August 2000. I had just moved into new hospital digs, when a hospital porter knocked with a message from switchboard (Having just moved, I had no phone in my room, and certainly no mobile) that my dad was critically ill.
I had called my parents just five days earlier on their wedding anniversary (15 August, Independence Day), and he was as healthy as he could be at seventy-two. There must be a mistake, I told the porter; you've got the wrong room. But he was back a few minutes later, shaking his head regretfully.
I was in the departure lounge of Heathrow airport just hours later, but my father was already dead. As I sat there, numb with shock and disbelief, awaiting the first available flight out, I remember my first emotion, even more than grief, being anger. Anger at him, for leaving without a proper goodbye, and at myself for not having been there when he departed.
There was so much 'unfinished business' between us, so many loose ends, so many missing pieces in a vast jigsaw puzzle that I thought I'd sort out 'later', because parents are immortal, aren't they? I'd ask him about missing links in the family tree or history 'tomorrow', or 'the next time' we met or spoke. 'Tomorrow' would never come now, and that hit me like a sledgehammer.
We cleared the furniture in the living room in a blur, to receive his body from the morgue. And my eye fell upon the pencil-sketch of him in youthful profile on the wall, undated, unsigned, but from his heady student years in Europe. Anyone who knew my father will immediately recognize him from the sketch.
As children in the 1970s, my brother Victor and I would place tracing-paper over the glass and copy the sketch endlessly. We asked my father who the artist was, and he would reply, "My friend Navelcar." I didn't press further then; at the time, that answer was enough. I would ask him more about the artist 'later'. Three decades later, I was still no wiser, about this and so many things.
I returned to the UK after the funeral, and long story short, was back in Goa eight years later, in 2008. Going through my dad's personal effects, many unanswered questions did sometimes get resolved. But the artist of the sketch was still a mystery. But now, I wanted to know. Was the artist still abroad or here, living or dead? Where had it been sketched? Lisbon, or Berlin?
Then, in a section of the press (it was about a year or two after 2009, when my son was born), there was an article about Vamona Navelcar. From the mention of his age, it was obvious that he was my father's contemporary; and his Lisbon years coincided with those of my father. It must be the same Navelcar, I told my mother.
Through the grapevine, I tracked down his Panjim address, only to be told his home was in Pomburpa. I got hold of a phone number, and spoke to Navelcar himself. The line wasn't clear, and my story must have been perplexing to him. As I now know, he is such a prodigiously prolific artist; how could he be expected to remember a sketch from half-a-century earlier?
On an impulse, having vaguely understood the directions to his Pomburpa house, I decided to drive over that instant, taking the painting, and my wife and son along for the ride.
I introduced myself, but Navelcar still couldn't remember my father. Until he saw his painting, that is. I wish I could describe the sparkle in his eyes when he quite literally recognized an 'old friend', both the sketch itself and its subject.
Excitedly, he expertly took apart the rickety old frame housing the sketch, and signed beneath it in black ink: 'Vamona Navelcar 1959 – Lisboa Café Pão de Açúcar.'
This was an unfamiliar Lisbon landmark. I have not visited Lisbon often, unlike many Goan acquaintances. I've only been there twice. But on both occasions, I made sure to stop by for a coffee at another café, Café Nicola at the iconic Rossio square.  My father had often told me that three generations of the family before me had been regulars there in their student years in Lisbon.
A recurring intergenerational 'trick' gets played out over and over, perhaps since the beginning of mankind. When we're young and impetuous, we don't really listen when our parents and elders try to hand down the family stories, because we're preoccupied with our present, which is far more real and appealing. By the time we're old enough to value this oral heritage, it's often a little too late, as the older generation has gotten even older, memories are beginning to fade, or they're not even with us anymore. My father would drone on endlessly at mealtimes, telling us these stories, but I can remember only fragments now.
At my last Lisbon trip, almost a decade after my father's death, I sat in Café Nicola at a table by the entrance, overlooking the square, where apparently my ancestors had sat too, and wept quietly, not just for him, but also for not having listened more attentively to him.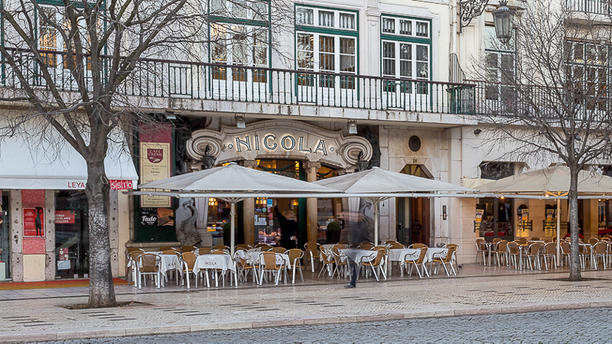 But now, thanks to the Navelcar sketch, another fragment of a hitherto 'lost' story has been regained. The next time I go to Lisbon, the Café Pão de Açúcar (which Google tells me is at the Alameda Dom Afonso Henriques) will be another pit-stop, for this is where two friends perhaps had a coffee almost fifty years ago, and this precious sketch was born.
Reading Anne Ketteringham's lovingly written 'Vamona Navelcar: An Artist of Three Continents', other parallels between his life and that of my father are also obvious.Like Navelcar, my father was also pressured by the dreaded Portuguese secret police PIDE (Polícia Internacional e de Defesa do Estado) to sign a document denouncing Jawaharlal Nehru, India's first prime minister. It was a pre-condition to his being allowed to study medicine in Lisbon. Like Navelcar, my father refused to comply, and faced the consequences.  He was compelled to therefore leave Portugal, and it opened a new chapter in our family history, in Germany.
It has taken a while for Navelcar to be hailed in his own homeland, but laudable efforts have recently been made, most notably the ongoing exhibition of his work at the Fundação Oriente in collaboration with the Al-Zulaij Collective.
Navelcar is unusually generous in bestowing his art to an adoring public, with impromptu, effortless sketches dashed off in lieu of a signed autograph (as he did at the inauguration of the exhibition). But this 1959 work is an even more treasured heirloom, for its connection to my father, and the new family story it revealed to me.
(An edited version of this article was published on 07 January 2018 in my weekend column 'On the Upbeat' in the Panorama section of the Navhind Times Goa India)