Mahatma Gandhi of course was a central figure in our school history books in the chapters devoted to the Indian freedom struggle. But I don't remember Mirabehn getting any mention; if she did, it must have just been in passing.
She "came to life", as it were, for my generation, in Richard Attenborough's 1982 hagiographic film 'Gandhi'. At almost the exact midpoint of the film, she arrives at Gandhi's Sabarmati ashram, Ms. Slade, the "daughter of an English admiral", but who prefers the name Gandhi has given her: Mirabehn.
But who was she, and what could have caused her to leave the comfort of her home in Britain to work with Gandhi? It was her love of classical music, and specifically her adoration of the music of Beethoven, that propelled her on her journey.
Mirabehn (1892-1982) was born Madeleine Slade, to an aristocratic British family, daughter of Rear-Admiral in the Royal Navy, Sir Edmund Slade. As her father was posted overseas for long stints, she grew up at her grandparents' country estate, inculcating a love for nature and animals.
The music of Ludwig van Beethoven was another abiding passion that began early in her childhood. She had started on the piano, and her father had bought her a "player-piano"  or pianola, a self-playing piano containing a mechanism that operates the piano action by "reading" or "decoding" a complex patterns of holes or perforations on a roll of strong sheet of paper, called a piano roll. The pianola was extremely popular until superseded by the phonograph and radio in the early 20th century.
In her autobiography 'The Spirit's Pilgrimage', Mirabehn writes:  "I played and listened, but nothing interested me particularly except one piece which held me from the moment it began. It was Beethoven's Sonata Opus 31 No. 2 [popularly called 'The Tempest']. I played it over and over…. I …procured one Beethoven sonata after another…. I was finding something far beyond the music…. I threw myself down on my knees in the seclusion of my room and prayed."
She visited India when her father was appointed Commander-in-Chief of the East Indies Station; but the experience "meant nothing to me but a life of social functions and formalities in a very restricted society which did not appeal to me." So at some point during her family's return to England, she preferred to stay on there, where she "played and listened to Beethoven day after day… I imbibed, more surely than if there had been words, a sense of fearlessness, strength and purity passing, especially in the slow movements, to those regions of the spirit which lift one into that which can only be felt but never spoken."
She became a concert impresario, and in 1921 organized a series of concerts featuring Beethoven and performed by the London Symphony Orchestra, ending the British boycott of German composers during the Great War.
Her Beethoven obsession prompted a pilgrimage to his birthplace in Bonn and to Vienna, where his career was established. She then heard of the "epic novel" by French novelist and mystic Romain Rolland (1866-1944) on Beethoven. She took a year out in France in order to improve her proficiency in French, just so that she could read the book.
She met Rolland at his home in Villeneuve, Switzerland. It was then that he mentioned a book he had just completed (1924), on the Mahatma. (Incidentally, Rolland had written the book without even meeting Gandhi). Mirabehn describes her reaction in her autobiography: "I looked blank. "'You have not heard about him?' he asked. "'No', I replied. So he told me, and added: 'He is another Christ.'"
She read Rolland's biography of Gandhi, and it changed her life. She corresponded with Gandhi, expressing her wish to become his disciple at Sabarmati ashram.
The book 'Romain Rolland and Gandhi correspondence' makes very interesting reading, as it chronicles, through extracts from letters, diary entries and press interviews the awakening of Rolland's interest in Gandhi and the freedom struggle. His diary entry in September 1925 states:  "I write to Gandhi to recommend my "daughter" Madeleine Slade who is leaving for Bombay on 24 October… She says her example has carried along her parents; her mother is spinning, and her father, the admiral, is weaving (cursing Gandhi all the while)."
There are several references to Beethoven in the book. On more than one occasion, Rolland calls Beethoven "the European Mahatma". In a postcard to Gandhi's secretary Mahadev Desai (February 1924), he signs off: "As our European Mahatma – Beethoven – sings in his Ode to Joy: Let us – millions of human beings –embrace each other."
In a letter to Mirabehn (25 April 1927), he writes: "If Gandhi knew him [Beethoven], he would recognize in him our European Mahatma, our strongest mediator between the life of the senses and eternal Life. And he would bless this music which perhaps, for us, is the highest form of prayer, a permanent communion with the Divinity."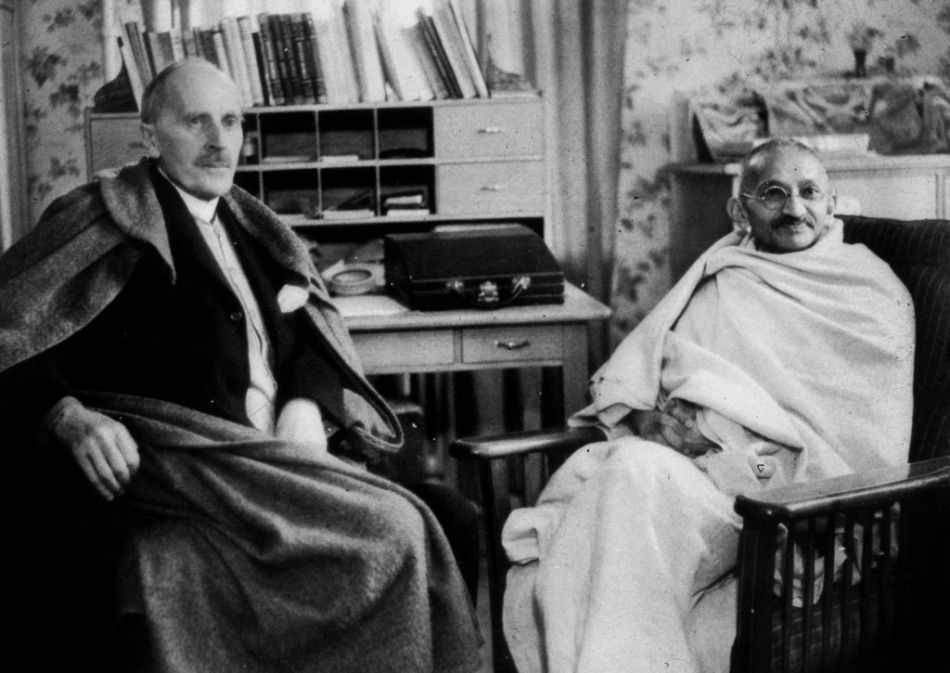 Rolland chronicles Gandhi's visit to him in 1932 in a letter to a friend: "On the last night, he [Gandhi] asked me to play him something by Beethoven; for he knows that Beethoven was the link between his great European disciple Mira (Miss Slade) and myself, who then did the same between her and Gandhi. So all three of us brought our gratitude back to Beethoven." He even mentions what he played: a piano reduction of the Andante (second movement) from his Fifth Symphony. Piano reductions of orchestral works were a common way of acquainting oneself with such compositions, again before the era of the phonograph and radio.
He then went on to play 'The Elysian Fields' (Dance of the Blessed Spirits) from Christoph Willibald Gluck's opera 'Orfeo ed Eurydice', and Rolland elaborates: "(the first orchestral melody and the flute melody, for I know from Tagore's example that there's no page of European music better attuned to an Indian's sensibilities)".
In another letter to a friend in 1932, Rolland reassures him not to worry about Gandhi's impending prison sentence, as "Prison is his time of rest and reading, and there is nothing better for his health." He further writes that Gandhi's secretaries informed him that in preparing for a stint in prison, Gandhi was "setting aside your [Rolland's] books on Beethoven for that time in the cells."
And what did Gandhi think of the "European Mahatma"? If he expressed an opinion, I've not come across it yet in my reading.
(An edited version of this article was published on 15 October 2017 in my weekend column 'On the Upbeat' in the Panorama section of the Navhind Times Goa India)