This Diwali vacation, our family impulsively decided to visit Kerala. If you discount a visit to Potta over two decades ago, I hadn't really been to this beautiful state, 'God's Own Country', before.
In light of the recent floods, this trip was undertaken after cross-checking that the place we wished to go to, Kochi, had recovered sufficiently to accept visitors once again.  It turned out to be one of our most magical and memorable holidays, and I was sorry to leave.
It's interesting how quite coincidentally, serendipitously perhaps, without really planning it, our recent trips (most recently Kochi, and Vasai on the way home, but earlier holiday trips to Malacca, Colombo) have many common trails: the Casa da Moeda trail, the Saint Francis Xavier trail. And the link between all of them and Goa, of course, was trade, particularly spices, and the port cities that sprang to life all along the route as a result of it.
Kochi was (and still is) called Queen of the Arabian Sea for its pivotal role in the spice trade, and was actually the main base of the nascent Estado da Índia until a decisive shift to Goa in 1530. We had a truly exhilarating time on a guided tour along the Muziris trail, and walking around the Fort Kochi area, where we learned and saw so much.
Somehow the freshness of the spices, be they peppercorns, cinnamon, ginger, clove, or chilli, made them come explosively alive to all the senses, adding that extra oomph to every meal.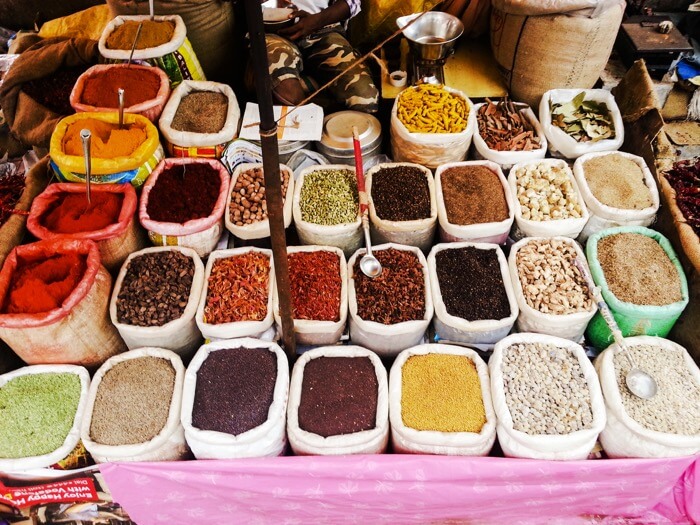 Like Colombo and Malacca, Kochi bears the imprint of three successive colonial influences:
Portuguese,
Dutch
and English.
And it would seem to me that all three wear their colonial past with a lot more maturity than we do in Goa. This is a casual observation, of course, but on speaking to people in all these places, one didn't get a sense that it was a touchy subject, or got raked up for political mileage.
It is always an interesting experience, coming as we do from a tourist destination ourselves, to 'turn the tables' as it were, and be tourists elsewhere. There are many lessons Goa could learn from Kochi.
Even though its exact site is disputed, the allure of Muziris, fabled ancient harbor, seaport, urban city and trade hub, is proving irresistible to the discerning tourist to Kochi with a keen interest in history.
Extensive excavations and discoveries at Pattanam by Kerala Council for Historical Resarch fuelled the idea of the Muziris Heritge Project, a tourism venture by Tourism Department of Kerala to reinstate the historical and cultural significance of Muziris.  The highly informative museum we visited in Paravur seems to be just the harbinger of what is being planned in this ambitious project. It was heartening to note that the findings related to Muziris are being examined not in isolation, but from a global perspective, with correlations, corroborations and collaborations by historians and archaeologists from all along the Spice Route and beyond.
Furthermore, it has spawned the Kochi-Muziris Biennale, the largest art exhibition in India and Asia's biggest contemporary art festival.
One couldn't help ruefully observing how Goa has neglected its own maritime past, and its vast potential for positive, wholesome, sustainable tourism, rather than the low-brow booze-drugs-sex-gambling attraction we have allowed it to degenerate to.
We have our own Gopakapattanam (Goa Velha) with its own tantalizing cache of artefacts unearthed through excavation and research. This could be developed (one hates to use this word, as politicians and bureaucrats seem to misunderstand its meaning) so much further, and with Old Goa and Panjim, be part of a much larger, scholarly Heritage Project. This is hugely untapped potential.
Gopakapattanam Biennale might not trip off the tongue quite as easily, but there is a mind-blowing creative launching-pad from heritage, as we have seen, from GHAG's Fontainhas festivals to the more recent, even wider-ranging Serendipity Art Festival.
Both Muziris and our Goa Velha came undone due to forces of nature; while Muziris fell prey to some cataclysmic event in 1341 (a powerful cyclone and resultant devastating flooding) resulting in the rise of Cochin/Kochi, the move from Goa Velha to Old Goa is thought to have been triggered by heavy silting of the harbor, possibly due to excessive deforestation. We have learned little from history, with severe floods this year in Kerala, the result of ignoring warnings by ecologist Madhav Gadgil, and our own relentless destruction of our forest cover and environment, provoking Nature's furious response sometime in the future.
Getting around in Kochi was really easy, with rickshaw fares so much cheaper than here. Heritage buildings certainly in the Fort Kochi were very well-maintained, and we encountered no piles of trash, no littered streets or dug-up roads.
Walking through its quaint streets, one felt Kochi was wearing its multi-cultural heritage proudly on its sleeve, celebrating it. Most port cities, more so than others perhaps, have always been melting-pots.  Its Jewish heritage was a particular delight for me. I'd love to return, just to revisit the synagogues and to explore areas we couldn't cover, in greater detail.
My wife Chryselle suggested Salman Rushdie's "The Moor's Last Sigh" as a holiday read due to its setting in Cochin (in the beginning), and it helped to actually visit so many locations described in the book.
Earlier this month, much after our Kochi trip, I read a post on scroll.in by my friend Jonathan Gil Harris, an excerpt from his book "Masala Shakespeare: How A Firangi Writer became Indian",
in which he "explores the relationship between Shakespeare and India's cultural traditions – and his own masala identity."  Kochi is at the centre of this excerpt, along with references to Rushdie's book. I could therefore relate better to the landmarks he mentions and the sights and vibe he describes, having been there myself so recently.
Yet Gil Harris, who has been to Kochi often, strikes a cautionary note. He makes some disturbing observations from his last visit. The beautifully diverse, unique fabric of multi-ethnic, multi-faith, multi-lingual multi-cultural heritage can become commercialised, and sinister forces can in a short time tear it all apart. We have to be ever-vigilant, whether in Kochi or in Goa.
Here's hoping 2019 will bring more plurality of discourse and inclusiveness, to Goa, to the rest of our country and to the world!
(An edited version of this article was published on 3o December 2018 in my weekend column 'On the Upbeat' in the Panorama section of the Navhind Times Goa India)