Last month, we experienced a compulsory internet detox for ten days or so (thank you Gwave!) for reasons that were never disclosed.
I am very grateful to my friend Nigel Britto for informing me that the great Chinese-American cellist Yo-Yo Ma would be performing in Mumbai. This would in itself be a milestone concert, on his first-ever visit to India.

To top it all, he would be playing the entire set of six suites for unaccompanied cello (BWV 1007-1012) by that towering musical genius, Johann Sebastian Bach (1685-1750).
And… get this… he would be playing them all (from memory, of course!) at one marathon concert, two-and-a-half-hours long, no interval!  Mumbai would be one of only 36 locations worldwide on Yo-Yo Ma's "Bach Project", where he would play all six suites "in one sitting".
Music-lovers will know how rare cello recitals are in Goa. This is a reflection of the relative paucity of cello teaching here, something that Child's Play India Foundation has been working hard to address. When cello recitals do happen, we're lucky to get one movement from one of the Bach cello suites. So to have them all performed by certainly one of the greatest living cellists would be a momentous occasion.
As Ma describes it on his dedicated "Bach Project" website, it is a "journey" motivated not only by his six-decade long relationship with the music, but also by Bach's ability to speak to our common humanity at a time when our civic conversation is so often focused on division."
That struck a chord in me, as it should in all of us, whether in his country, or ours, and indeed in most of the world today, where exclusion and division unfortunately have so much greater currency and state, political and societal backing than inclusion and harmony.
It is noteworthy that Yo-Yo Ma, at sixty-three, is the exact same age that another great cellist, Mstislav Rostropovich (1927-2007) was when he in 1991 first "plucked up the courage" to record all the Bach cello suites (although Yo-Yo Ma did do it once before, in 1983).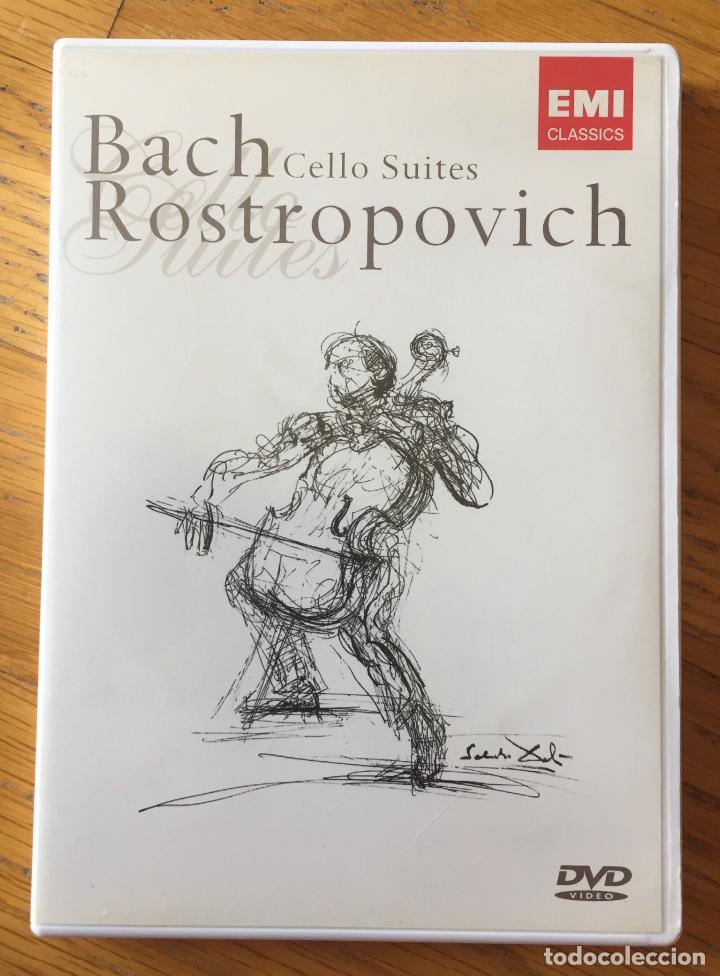 Rostropovich too, in the DVD introduction admitted that he'd been "closely linked to them" all his life, with "nothing in the world more precious" to him. "These compositions always allow you to discover something new. Each day, each hour, each minute you reflect upon them, you reach deeper."
There is something prayerful, spiritual even, that one experiences, when one plays or listens to them. English music critic, musicologist and composer Wilfred Mellers called it "Monophonic music in which a man has created a dance of God."
With the internet still down, I had to call a friend in Mumbai who got us tickets. In the run-up to the concert, I read (and re-read) as much as I could about them. One fascinating book is the lovingly-written "The Cello Suites: J.S. Bach, Pablo Casals and the search for a Baroque Masterpiece" by Canadian musician and writer Eric Siblin.
A former pop music critic for the Montreal Gazette, he began a voyage of discovery after listening to a recital of the Cello suites, taking him to the backstreets of Barcelona, to interviews with master-cellists; to archives, festivals and conferences; and even to cello lessons – "all in pursuit of answers to the mysteries that continue to haunt the music more than 250 years after its composer's death", and around three centuries after the Suites were written (around 1717-1723).
Rostropovich said that "the hardest thing to achieve, in interpreting Bach, is the necessary equilibrium between human feelings, the heart which undoubtedly Bach possessed, and the serious and profound aspect of interpretation. Bach has no shallow or transitory emotions, no momentary anger, no bad words, no fleeting embraces. His emotions are on as vast a scale as Shakespeare's. These are emotions common to all people on earth. We all weep when we suffer, we all know tears of joy. It's these fundamental emotions that Bach transmits in his Suites. They demand more than a lightweight approach. But you can't automatically disengage your heart from the music. This was the greatest problem I had to resolve in my interpretation."
This absence of anger in Bach's music is something I have often remarked upon as well. Perhaps this is also why Ma thought it apt for our time.
Like him, Rostropovich too thought of the Suites as a "cycle", one that increases in intensity and complexity, each Suite's Prelude increasing in length, until the final Suite is, as he terms it, "a symphony for solo cello." He gave titles to each Suite: 'Lightness (Suite no. 1, G major); 'Sorrow and Intensity (no. 2, D minor); 'Brilliance' (no. 3, C major); 'Majesty and opacity' (no. 4, E flat major); 'Darkness' (no. 5, C minor); and finally, 'Sunlight' (no. 6, D major).  His views on key-colour relationships of the Suites are quite fascinating.
He chose to record the Suites in a church whose "severity of line and rhythm of architecture" so powerfully reminded him of Bach's music. These considerations may not have been on Ma's mind when he played for us at the NCPA's Modernist-style Tata theatre, but we got lightness, sorrow, intensity, brilliance, majesty, darkness and sunlight all the same.
Ma strode onto the stage with a spring in his step, sat down, waited until latecomers had settled down, and proceeded to play the entire cycle, with barely an intake of breath between movements, and a brief pause between Suites. He seemed to be having an intimate conversation with the Universe, and we were mere eavesdroppers. If he did pause at "half-time", after the third Suite, it was to make an emphatic point about the incessant coughing in the audience (more about this in another column, perhaps?), which quite visibly seemed to be disturbing his intense concentration. It disturbed the rest of us as well, but over time he and we tuned out the compulsive coughers who didn't have the good grace to leave.
The concert was a Bach pilgrimage, with each of the 36 movements (six movements in each Suite:  prelude, allemande, courante, sarabande, two minuets or two bourrées or two gavottes, and a final gigue) revealing a different aspect of his genius. As Ma put it, the first three Suites seemed to him Bach's way of showing us what the cello could do; the last three on the other hand, what the cello could NOT do, but Bach invites us, the listener, to "complete" it in our imagination.
It is interesting that both Ma and Rostropovich particularly love the intimate Sarabande in the fifth Suite. Ma chose to play this movement on September 11, 2002 at Ground Zero, while for Rostropovich it was "most genius composition – just three lines, that's all, but so precious!"
When I was young, old-timers would tell me, "I heard Heifetz when he came to Bombay." One day, I'll tell my grandkids "I heard Yo-Yo Ma play all the Bach Cello Suites in Mumbai." This is the stuff of legend.
(An edited version of this article was published on 17 February 2019 in my weekend column 'On the Upbeat' in the Panorama section of the Navhind Times Goa India)
You can hear him play the Six Suites (at the BBC Proms 2015):