The stereotypical image of Ludwig van Beethoven (1770-1827) has a piercing glare, an unkempt shock of hair and always unsmiling.  Those who have a passing acquaintance with his life story will know of a turbulent childhood, a domineering father, a mother figure drained by struggling finances, repeated pregnancies and consequent ill-health; of Beethoven's awkwardness in society and general lack of success on the romantic front; and of course his own battle with ill-health, especially the crushing gradual loss of his hearing, which began in his late twenties and tormented him for the rest of his brief lifespan.
But that summary hardly does him justice. He may have been misunderstood, but he did have a funny bone and was not averse to merry-making, especially at Carnival, certainly in his younger years when he was in relatively better health.
Beethoven's Bonn years are often glossed over in terms of his compositional oeuvre, as he came into maturity as a composer following his move to Vienna in 1792, and was very particular that his published works (and given opus numbers accordingly) should be in effect his professional calling-cards.
His earlier works, and subsequent ones that didn't get published with an opus number, or survive only as fragments, were collated in 1955 by Georg Kinsky and Hans Halm into a music catalogue, WoO ("Werke ohne Opuszahl", Works without opus number).
WoO 1 is an orchestral work written in Beethoven's Bonn years, between 1790-91, titled 'Musik zu einem Ritterballett' (Music for a ballet of Knights), carnival music that was premiered on 6 March 1791 at the Redoute, Bad Godesberg.  The carnival was one of the regular events on the Elector's theatre calendar during Beethoven's time in Bonn. As employee of the Elector, he was expected to write appropriate music for the calendar.
The piece lasts about 12 minutes and has the following movements: 1. March. 2. German song (Allegro moderato) 3. Hunting song  (Allegretto) 4. Romance (Andantino)  5. Battle song  (Allegro assai con brio) 6. Drinking song (Allegro con brio) 7. German dance (Waltz) 8. Coda (Allegro vivace – Andantino –tempo 1).
The music was 'ghost-written' (a not uncommon practice at the time) in the name of Beethoven's patron, Count Ferdinand Ernst Gabriel von Waldstein (also later the dedicatee to Beethoven's 'Waldstein' sonata no. 21 in C major, Op. 53, through which he has attained vicarious immortality, if he is remembered at all!) but it is the work of the young Beethoven, already holding out much promise.
The theatre calendar for the year 1792 states: "On Shrove Sunday, the local nobility performed a characteristic ballet in old German costumes in the concert hall of the Redoute. The creator of said event, his Excellency Count von Waldstein's, composed dance and music in honour of the event, taking into account the inclinations of our forefathers to war, hunting, love and carousing."
Beethoven's childhood friend Franz Wegeler clears up any ambiguity regarding  its authorship in his 'Biographical Notes' (1838): "then the music for a ballet of knights performed by the high nobility in the carnival, has, until now, never been attributed to him. … This composition was long considered the work of Count Waldstein, as Beethoven never assumed authorship, and even more so, as the former was the one who organized the ballet together with Dance Master Habich of Aachen."
An exciting discovery was made even more recently, in 2015: a song (or Lied) by the young Beethoven from his Bonn years (but never published, therefore now assigned WoO 4711) was found in an attic in the Gürzenich, a landmark building in the heart of Cologne.
The Lied is called 'Eschte Fründe stonn zesamme', the Kölsch or Rhenish version of 'Echte Freunde stehen zusammen' (Real friends stick together).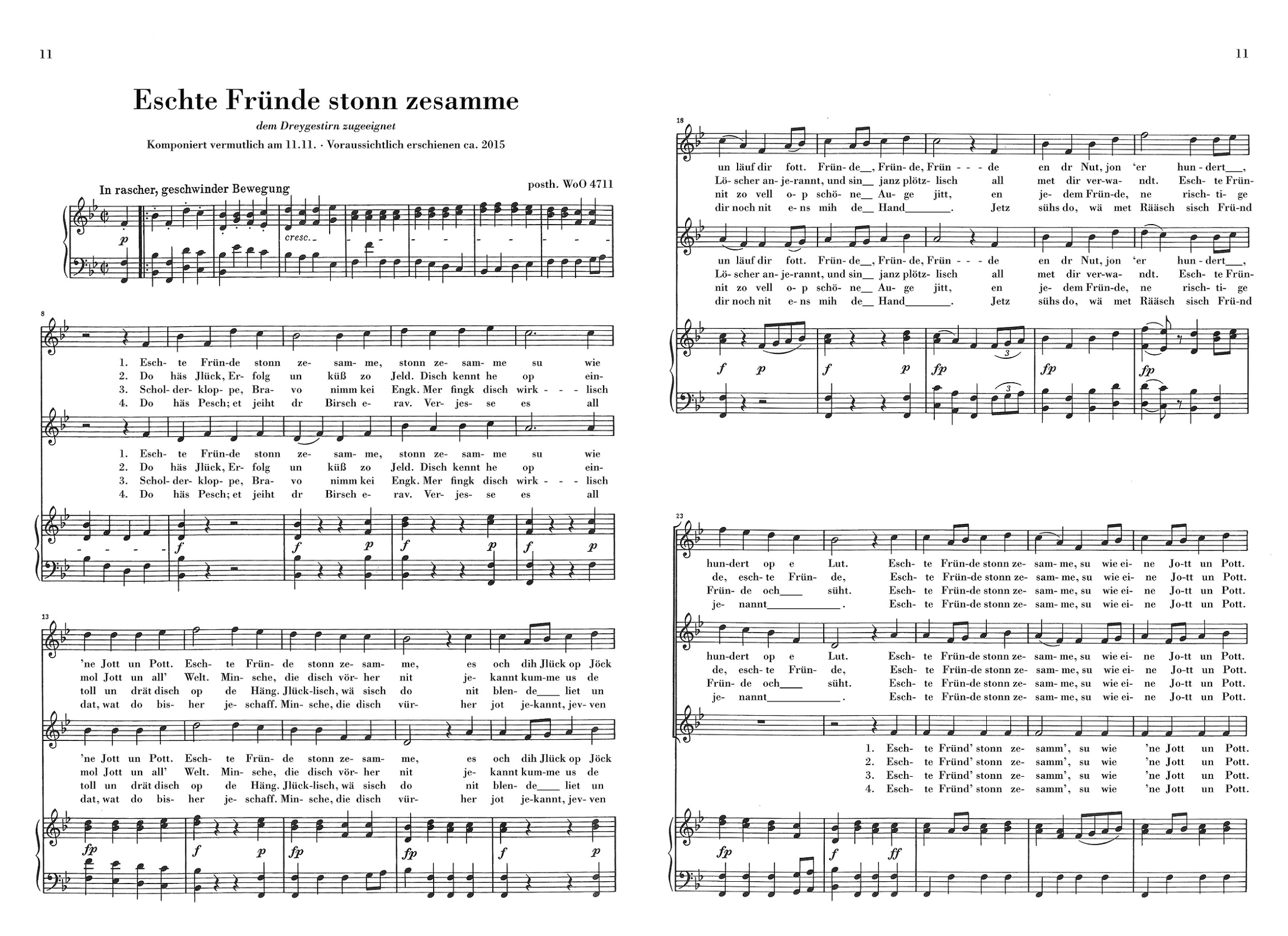 Although Beethoven left his native Bonn in 1792 never to return (although that had never been his intention), he never stopped pining for his Rhenish homeland, which included the river Rhine that he loved so much and would not see again.
Even today, in either the Rhenish dialect or the more 'German' version, Eschte Fründe/Echte Freunde' is a popular carnival drinking song, sung to a robust marching beat. Beethoven's Lied  follows the same vein. The tempo recommendation states 'In rascher geschwinder Bewegung (in rapid motion) and is also in B flat major, like the contemporary version sung by the German band De Höhner, which also belts out this song in the same Kölsch dialect every year at Carnival in Cologne.
The song refrain translates thus: "Real friends, hold together, even when your happiness is on the move and runs away from you/Friends, friends, friends in need/Walk a hundred, a hundred on a lot. Real friends stick together/ Just as a god and a pot."
"As a god and a pot" is a short form of the Cologne credo "we pray to God and eat out of one pot" meaning something like "we are so close that closer is not even possible."
One verse goes: "When you will have good luck, success and come to money,/At once God and the world knows you are here./People who previously have not known you,/Come running up out of the holes,/Suddenly everybody's related to you."
When Beethoven set these lines to music (probably around the same time as the Ritterballett, although we can't date it precisely), good luck, success and money were not quite on the horizon.
Although he had them all in some measure when he began to come into his own in Vienna as performer and composer, sadly it wouldn't be too long before the one sense most precious to any musician, his hearing, insidiously began to fail him, deafness creeping up on him as early as 1798, when he was barely twenty-seven, and growing steadily worse.
He would probably then have related more closely with the following verse of 'Eschte Fründe': "When you have bad luck; it goes down the mountain,/ Forgotten is everything you reached before. /People that have previously known you well / Don't even shake hands with you. / Now you can see who rightfully called himself your true friend.'
Perhaps he turned over these lines in his head as he wrote his heart-felt, anguish-ridden Heiligenstadt Testament in 1802. But in truth, a host of loyal friends stayed close through it all, enduring his insufferable mood swings and temper tantrums. They may have been few, but his real friends did stick together with him, "just as a god and a pot."
(An edited version of this article was published on 23 February 2020 in my weekend column 'On the Upbeat' in the Panorama section of the Navhind Times Goa India)