Some weeks ago, I wrote a column "A Star is Born", describing the goosebumps I got when twelve-year old Anthea Luna-Marie Dias played Pablo de Sarasate's Zigeunerweisen with such panache at Porvorim in April. All through her performance, I couldn't help thinking of another young girl of a similar tender age, eleven-year old Singaporean violinist Chloe Chua.
I had been following the Menuhin Competition Geneva (12-22 April 2018) on live streaming video online, and the performance of this confident young girl had won not just my heart, but of the jury (that included violin greats such as Maxim Vengerov, Itamar Golan and Ilya Gringolts among others), who awarded her the first prize in the junior division of the competition. In the final round, she played a contemporary work for solo violin, Self in Mind by Jaehyuck Choi; and the Winter concerto from Vivaldi's Four Seasons, leading from the violin the musicians of l'Orchestre Chambre de Genève.
Do watch the YouTube clip.
The next time yet another movement of yet another Vivaldi violin concerto is trotted out here by much older players to gasps of awe, it is worth remembering that Vivaldi's interest in concerto writing was fuelled by his employment at the Ospedale della Pietà which specialized in teaching music to young orphaned and abandoned girls. So his concertos were aimed at this very young demographic, of pre-teens and teenagers.
Chua shared the prize with another brilliant young violinist, ten-year old Christian Li. In fact, South-east Asian young violinists swept four out of the six junior prizes and two out of the four senior prizes in this Europe-based competition.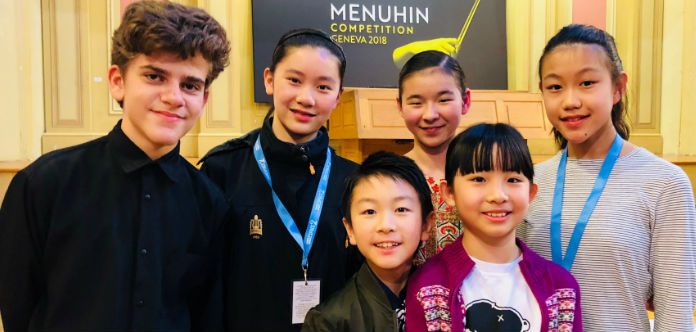 Some decades ago, it would have seemed unimaginable. It is time our youth from our part of the world storm such citadels.  It might seem a faraway dream, but it is possible with the right pedagogical approach, applied more widely and in a more sustained manner.
At the time I attended the Porvorim concert, I couldn't have dreamed that Anthea and Chloe would soon meet each other just a few weeks later at a chance encounter in Singapore.
Anthea travelled with Amanda Rodrigues (14) and Ravi Almeida (21) to Singapore in May. But this was not a summer holiday break. They all successfully auditioned to join the S.A.V.E. (Systems Approach to Violinist Enrichment) courses for more advanced violinists conducted by its founder Professor Lan Ku Chen, Honorary President of the Taiwan Talent Education Association (TTEA), violin Teacher Trainer of the Asia Region Suzuki Association (ARSA), and Representative of China Affairs of the International Suzuki Association (ISA) and ARSA.
Dr. Chen has also taught master classes and Suzuki teacher training courses in many countries, including China, Korea, Indonesia, Singapore, Thailand, Malaysia, Philippines, Australia and the U.S. His students have previously won prizes at international competitions, notably the Menuhin competition, as well.
Anthea and Amanda are students of Winston Collaco, founder of Escola Amadeus in Margão, and one of only two accredited Suzuki teachers in all India, and the only accredited Suzuki teacher in Goa; Ravi is currently studying with Pheroze Mistri, violinist, conductor and violin pedagogue who had majored in violin and conducting in Vienna, notably studying conducting under the famed Hans Swarovski. All three (Anthea, Amanda and Ravi) did their teachers proud, performing to enthusiastic acclaim at the ProMusica concerts in Porvorim and Margão.
I was especially delighted that Ravi was going to the S.A.V.E. courses. As many of you will know, Ravi has been on the string faculty of our music charity Child's Play India Foundation (www.childsplayindia.org) for three years, commuting thrice a week from Margão to instruct the bulk of our violin and viola students who are at two of our locations. An enrichment of his violin skills ought to help our children as well.
Dr. Chen was extremely impressed with the high level of playing of all the Goan violinists. He lavishly praised the efforts of Winston in getting such young players to such a high level so quickly.
The first S.A.V.E. course covered hand positions, revised bow hold, vibrato and shifting exercises, while the second course revised and extended instruction in all the above and also addressed double-stops (the simultaneous playing of two notes on two strings), with attention devoted to intonation, shifting of fingers, and position shifts. And both courses addressed the vital issue of tone production.
Such a structured course is in glaring contrast to the run-of-the-mill 'masterclasses' that many visiting musicians offer periodically here, with opportunistic, blasé attention given to whatever the students are playing at the time, which doesn't allow either teacher or student sufficient time to address core issues and problems in playing. I used to get excited initially when such 'masterclasses' were announced, (and to some extent I still do), but over time I have come to realize their limitations. An in-depth course like Dr. Chen's S.A.V.E. is far more likely to yield fruit.
Winston has a strong bond with the Asia Region Suzuki Association, making frequent visits to their meetings and teaching sessions in Singapore over the years. He has imbibed and internalized the core principles of the Suzuki method well, and the results are there for everyone to see and hear. Apart from Anthea and Amanda, he has several other very young violin and viola students who are playing to a very high level in a remarkably short time.
As a visiting Trinity College examiner said to me, the Suzuki method is only as good as the teacher teaching it. His statement is starkly evident in Goa. Winston's students are much more proficient, confident, and play much more musically than their peers (even if one adjusts for the age of the child and number of months or years being instructed) being taught by other teachers using the Suzuki method. Winston's students have a solid secure intonation, and produce a beautiful sweet tone, and have a better grasp of the music. This is not at all a reflection on the ability or potential of the child, but it invites all of us in the teaching community to ask ourselves what we need to discard in our own teaching method, and what we need to learn and incorporate.
Another notable difference I find is how quickly Winston introduces his children to level-appropriate out-of-Suzuki-repertoire material, and the sheer volume of it. While many others have students slavishly scraping away for years, often with poor tone and intonation, at Suzuki material of this or that Book level to the exclusion of anything else, Winston's students are studying the rich mainstream violin repertoire: études, sonatas, works for violin and piano, and chamber and orchestral repertoire. This is as it should be. Any method should be a means to an end, not an end in itself. I for one in all humility would invite Winston to share with the rest of us in the teaching community the secrets of his teaching methods, so that more young children in Goa can achieve their potential more fully and rapidly.
(An edited version of this article was published on 1 July 2018 in my weekend column 'On the Upbeat' in the Panorama section of the Navhind Times Goa India)