Most of you will have watched the live coverage of the opening ceremony of the FIFA 2018 World Cup in Moscow.
As the camera swooped down upon the stadium, passing by a volley of footballs, what did we see and hear? With the magic of digital technology, we saw pianist Denis Matsuev and a Yamaha concert grand suspended in mid-air as he played the dramatic opening chords of Tchaikovsky's Piano Concerto no. 1 in E flat minor, Opus 23 in response to an invisible orchestra (the Mariinsky Theatre Symphony Orchestra conducted by Valery Gergiev).
This was a clip from their performance of the work the previous night at the gala concert in Moscow's landmark Red Square. Tchaikovsky was the opening act there too.
Pyotr Ilyich Tchaikovsky (1840-1893) is easily the most iconic, recognizable and loved Russian composer of all time, and arguably one of its biggest cultural exports.
Wherever he is in the afterlife, he is certainly having the last laugh. Several of his contemporaries didn't consider his music "Russian enough."
To understand this, we have to go back further in time to the reign of Tsar Peter the Great (1682-1725), during which "Western" ideals and culture were celebrated and encouraged.
During his Grand Embassy (a diplomatic mission he undertook in 1697-98 to persuade Western powers to ally with Russia against the Ottoman empire, but didn't succeed in his mission), he came under the influence of European customs which he felt were superior to Russian traditions, even in 1699 changing the date of celebration of the new year from 1 September to 1 January, and switching from the old Russian to the new Julian calendar.
The 1812 invasion of Russia by Napoleon threw Russia into a serious identity crisis.
There was a groundswell of support for art, literature and music that represented Russian culture and celebrated Russian history, mythology and fairy tales.
It is this backdrop that created "The Five" (also called "The Mighty Handful" or "The New Russian School"), five prominent Russian composers that worked together to create distinct Russian classical music, led by Mily Balakirev (1837-1910), and including Cesar Cui (1835-1918), Modest Mussorgsky (1839-1881), Nicolai Rimsky-Korsakov (1844-1908) and Alexander Borodin (1833-1887).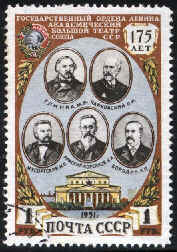 The Five (called Kuchkists, after 'Kuchka' for Handful) sought to compose a distinctly Russian form of art music, rather than one created following European-style conservatory training or modeled upon earlier European music. None of the Five had a conservatory education, and their leader Balakirev even felt it limited musical imagination. They believed the music they produced was more "authentically Russian", being somehow more earthy than that of their conservatory peers.
Tchaikovsky differed with them to a degree: he too wanted to write music that was Russian in every respect, but still of such quality that would cross all boundaries and hold up to the professional scrutiny of his Western peers.
The Saint Petersburg Conservatory (ironically known today as the N. A. Rimsky-Korsakov Saint Petersburg State Conservatory, as Rimsky-Korsakov would be appointed professor there in 1871!), the first music school in Russia, was founded in 1862 by Russian pianist-composer Anton Rubinstein. Tchaikovsky was among its first students, graduating in 1865.
In 1866, the Moscow Conservatory (today the Moscow State Tchaikovsky Conservatory, as Tchaikovsky was appointed its professor of music theory and harmony at its inception) was formed by Russian pianist, conductor and composer Nikolai Rubinstein, younger brother of Anton Rubinstein.
In 1869, the Russian Musical Society (RMS) was formed, by Rubinstein and his patron Grand Duchess Elena Pavlovna, to raise the standard of music education in Russia.
All these changes were for some a matter of great national pride, as Russian music schools would be truly "Russian", with even instruction in the Russian language. Prior to this, anyone wishing to pursue music studies would have to receive instruction from a foreigner or go to Germany or elsewhere in Europe.
On the other hand, others, like the Five, felt they were not Russian enough. Led by Balakirev and with the support of music critic Vladimir Stasov, they attacked the RMS ceaselessly, verbally and in print. They were fearful of the influence of German instructors (Anton Rubinstein looked up to Beethoven and Mendelssohn) and precepts into Russian classical music. Some of Balakirev's animosity was driven by as much by envy of Anton Rubinstein (with a generous dose of xenophobia and anti-Semitism, as Rubinstein was of German and Jewish descent) as well as ideological differences. By association with both the conservatories, Tchaikovsky became a prime target.
Balakirev in 1862 founded the Free School of Music, to help create a "Russian" school of music, but on his terms. Education was offered free of charge to its students.
The Five drew much inspiration from the music of Mikhail Glinka (1804-1857), the first "truly Russian composer" and regarded the fountainhead of Russian classical music.
Relations between Tchaikovsky and The Five remained cautious, even when tenuous friendships did develop between him and some of them.
The stirrings of nationalism were not unique to Russia alone, of course, but swept like a wave across Europe with disastrous consequences, eventually being among the root causes of the two World Wars.
It is important to remember that nations and nationalism are after all artificial constructs, defined by "boundaries drawn in the blood of past wars", to quote philosopher A. C. Grayling. All-too-often, ardent 'love' for one's nation translates into knee-jerk pathological hatred of those beyond those boundaries, or even worse, violent hatred even of those within, due to ever-narrower and bigoted definitions of who conforms to this 'nationalistic' ideal.
It is a sentiment that politicians and world leaders repeatedly exploit to their advantage. Looking at Russia, Vladimir Putin benefited from it time and again, to consolidate power, and to justify the annexation of Crimea in 2014 and his actions in Ukraine and Georgia. The choice of ardent Putin supporter Denis Matsuev not only as soloist but as master of ceremonies at the gala concert came as no surprise.
How would Tchaikovsky himself have fared in 21st century Russia, which gains so much currency and prestige from his music? Most biographers are agreed that he was homosexual, despite the best efforts of Soviet-era censors to suppress vital evidence, especially Tchaikovsky's brother Modest's autobiography who mentions it quite candidly. Although "same-sex sexual activity between consenting adults in private" was decriminalized in 1993, hate crimes against LGBT persons are not uncommon.
How would he (and how should we) react to Russian nationalism gone awry, with ultranationalist Russian politician Vladimir Zhirinovsky dreaming of the day "when Russian soldiers can wash their boots in the warm waters of the Indian Ocean and switch to year-round summer uniforms"?   Nationalism is a dangerous beast; we should all recognize it and be wary of it.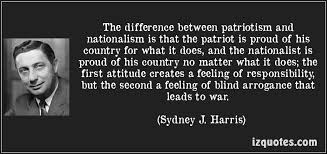 (An edited version of this article was published on 24 June 2018 in my weekend column 'On the Upbeat' in the Panorama section of the Navhind Times Goa India)