"The scene is a garden at dusk; a tennis ball has been lost." The beginning of a play or a novel? This was the opening sentence describing the scenario to the audience of Claude Debussy's ballet 'Jeux' (Game), which is based loosely on the game.
I thought the euphoria of the Wimbledon finals would be a good enough excuse to explore the fascination of musicians with tennis.
Although Maurice Ravel (1875-1937) was twelve years younger than Debussy (1862-1918), they struck up a friendship, although not a close one, which would last more than a decade. That friendship extended to the tennis court as well. The relationship soured later for musical as well as personal reasons.
Two other composers that played tennis together were Arnold Schoenberg (1874-1951) and George Gershwin (1898-1937). They seem unlikely partners, as their compositional styles could not be more different. Gershwin's lavish Beverly Hills home had a tennis court, which saw the two composers sparring fiercely every week.
Their playing styles were markedly different as well. One observer account describes Gershwin as 'nonchalant', 'chivalrous', and 'always playing to an audience', whereas Schoenberg was 'overly eager', 'choppy' and had 'learned to shut his mind against public opinion'. As in music, so in tennis?
Schoenberg's obsession with notation extended to tennis as well. He devised a unique short-hand notation system for tennis, in which issues like 'foot fault' and 'player rushes to the net' were dutifully recorded. It never quite caught on.
Although British composer Benjamin Britten (1913-1976) had a "damaged heart" following a severe attack of pneumonia as a baby and was told he would never lead a normal life, he became a keen sportsman, especially for outdoor pursuits like cricket, football and tennis. And when he played, he gave it everything.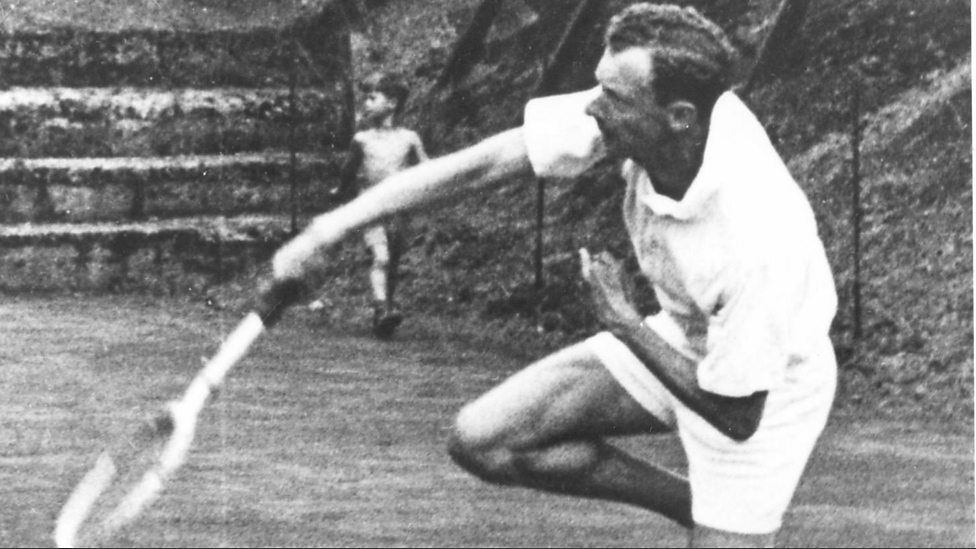 Author Jonathan Gathorne-Hardy writes "Ben was intensely, remorselessly competitive in an almost sadistic way…When you were beaten by him at squash or tennis… you literally felt that he'd been 'beating' you."
"My primary occupations are playing tennis and scoring the opera", wrote Russian composer Sergei Prokofiev (1891-1953) in 1916 to his friends while away in Finland working on his opera 'The Gambler'. He was known to argue heatedly over every point as he played. Possibly the game could encroach upon his work as well, as he writes in another missive: "The famous international tennis star Prokofiev has arrived in Kuokkala and has taken part in a huge tennis competition. 'The Gambler' suffered most of all".
Twenty years later, tennis was still important to him: "Besides working, I'm playing tennis and chess, swimming and reading." He was a perfectionist on court as well as in music.
Tennis courts (or the courts for the game that preceded it, the Jeu de Paume, or 'Game of Palms' as the game initially was played without racquets, which were introduced later) have been used as venues for music events, notably opera. La Salle du Jeu de Paume de la Bouteille does not exist anymore in Paris, but it was the site of the first public performance of the opera 'Pomone' by the seventeenth-century French composer Robert Cambert (1628-1677), also the first known opera in French.
Cadmus et Hermione, the first tragédie-en-musique (tragic opera) by Jean-Baptiste Lully (1632-1687) was staged at the Jeu de Paume du Bel Air in the rue de Vaugirard in 1673.
The Burgtheater Wien (Vienna Burgtheatre) was initially a tennis court, being refurbished as a theatre for operatic performances and plays in 1741.
Should instrumentalists play tennis or should they avoid it for fear of injury? This gets debated at lot on dedicated music forums even today. But the violin greats of the past and present seemed not too worried.
The definitive violin virtuoso of the 20th century, perhaps of all time, Jascha Heifetz (1901-1987) was a keen tennis player. In his autobiography "Early Years in Russia", he writes in a letter to music critic and friend Viktor Valter: Heifetz: "Not far from us is a tennis court. I often play and have already learned to play pretty well, although I don't have time to play every day". And he was not alone, by his account. Other students like him, of the great violin pedagogue Leopold Auer, would come to play as well.
Another great violinist Isaac Stern (1920-2001) seemed to love the game even more. In his autobiography "My First 79 Years", he writes: "[Tennis] may seem a strange attraction for a violinist, who should be more cautious than most when it comes to hands, but I had never paid much attention to my hands and had discovered early in life that if I didn't worry about them, they'd take care of themselves."
Stern further related how he once sprained his wrist while playing tennis, before an important concert where he was scheduled to perform the Brahms Violin Concerto. His doctor placed his right wrist in a cast for several weeks, removing it just days before the performance. But his mind-over-body concentration ensured that he played the concerto right through without feeling any pain or discomfort. In his words "That's one of the things the body (or brain?) can do sometimes in moments of great need."
He continued playing tennis even after this experience: "I didn't start worrying about my hands, and I didn't stop playing tennis. Artistic control of one's medium should never be achieved at the cost of draining the joy from life. "
Stern even uses tennis analogies when dispensing pedagogical advice, comparing bow strokes to wielding the racquet, and the follow-through needed in both.
Present-day violinist Joshua Bell plays tennis "pretty well", and in his childhood was Indiana State Junior Champion (age category 9 to 10), apparently without having had a single tennis lesson.
When Pinchas Zukerman got bored of "just being a soloist" in his youth, he seriously contemplated becoming a professional tennis player! He would pack a tennis racquet along with his violin when on tour, rush straight from the airport to the nearest court, and back to it again after rehearsal. Fortunately for us, he stuck to music.
Closer to home, Khushroo Suntook , chairman of the NCPA Mumbai and founder of the Symphony Orchestra of India, was a national-level tennis player in his youth.
The occupational hazard of tennis players, called tennis elbow (lateral epicondylitis) can afflict violinists and other musicians too, regardless whether they wield a racquet. Zubin Mehta actually needed surgical treatment for it in 1984.
Conversely, do tennis players have a musical connection? Rafael Nadal's grandfather (also called Rafael Nadal) was a conductor, directing the local band in their hometown Manacor, Majorca.
And Roger Federer took up the violin in 2013! Just for a commercial to mark 75 years of the Lucerne Festival. Do watch the video:
For one heart-stopping moment, he grips the violin like a racquet. To use your own words, Rog, please "stick to tennis".
(An edited version of this article was published on 10 July 2016 in my weekend column 'On the Upbeat' in the Panorama section of the Navhind Times Goa India)