'An Equal Music' is the first of Vikram Seth's novels that I read. It was 1999, my second year living and working as a doctor in the UK. The book was on the bestseller list, and in bookshops everywhere. I was going through a turbulent period in my own personal life, and I remember buying the book at Heathrow on one of my biannual visits to or from India, to take my mind off my issues.
I am afraid that the plight of the protagonist, violinist Michael Holme and his near-insane obsession with his student colleague and the great love of his life Julia McNicholl, was not exactly 'what the doctor ordered' given my circumstances. But I was floored by the mastery of Seth's writing.
It 'struck a chord' in me on many other levels besides the matters of the heart. Like Michael, I too was living in London at the time, and could relate to its iconic landmarks: Hyde Park, the Orangery and the Serpentine; the Wallace Collection; Piccadilly Circus and Oxford Street. Like Michael and Seth, I am also conversant in German, as I was born in Berlin. I too have visited Vienna and Venice. I also, like Michael, play violin and viola; unlike him, I do not play it professionally, but I am an avid amateur player in chamber ensembles and orchestras, in England and in India. I am a music journalist as well, with a weekly column in the Goan press, and have been published in the national press and in reputed music journals and magazines around the world. I am deeply impressed by Seth's scholarly knowledge about matters musical, and his loving, poetic descriptions of music compositions, the rehearsal routine of the Maggiore string quartet (in which Michael plays second violin); and the joyful process of music-making.
Indeed, Italian music critic Paolo Isotta says of the Italian translation of the book that "no European writer had ever shown such a knowledge of European classical music, nor had any European novel before managed to convey the psychology, the technical abilities, even the human potentialities of those who practise music for a living."
Each of Seth's novels has its own distinctive style. His first novel, The Golden Gate (1986)
is entirely written in verse, composed of 590 Onegin stanzas, inspired by Charles Johnston's translation of Alexander Pushkin's Eugene Onegin. His second, A Suitable Boy,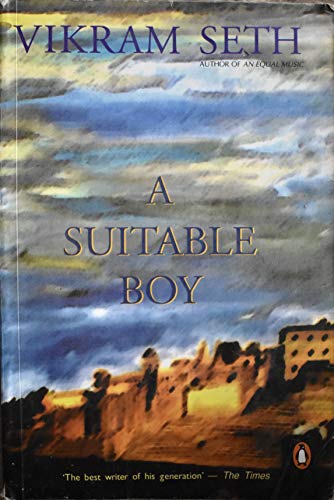 in a complete departure in style, is an epic, compared in its length and complexity to Tolstoy's War and Peace and is "one of the longest novels ever published in a single volume in the English language", charting the story of four families over eighteen months in post-Independence, post-Partition India.
An Equal Music is nothing like either of these, in terms of its location, setting, period, or writing style. It is written in the first person, and in the present tense, a stream-of consciousness account of the thoughts, actions and reminiscences of Michael Holme over a period of little over a year, from one winter to the next as he finds (and loses again: spoiler alert!) his lost love Julia.
Just as a great composer could use a tiny fragment of a musical idea to build a whole symphony, 'An Equal Music' was apparently born from a casual stroll Seth and his violinist friend and then-partner Philippe Honoré took in Hyde Park on a wintry day. Seth imagined a man staring into the water of the Serpentine Lake in the park. A momentary flight of the imagination led to this masterpiece; as Seth puts it, "a very visual inspiration for a very aural novel."
The epigraph of the book is dedicated to Honoré in an acrostic Onegin stanza or Pushkin sonnet (a nod to Seth's first novel, surely, and exploiting the fact that Honoré's full name has fourteen letters, the same number as the lines needed for such a stanza) in his name, acknowledging this inspirational spark.
It is my impression that Seth approaches the novel much like a work of music itself. The eight chapters or "parts" could be regarded as 'movements' in a work of chamber music. Each movement has a 'climax' or a 'theme'. Several little ideas or motifs (the rain; the Serpentine; Michael's teacher's exhortation to "sustain"; the idea of a fugue and its original derivation from "to flee") keep recurring and in some cases elaborated ('developed' if you will, like the development phase of a musical idea) in the most unexpected and ingenious ways.
Just as repeated 'listenings' of a great music composition reward you not only by pleasuring you one more time but also by revealing nuances you may not have picked up earlier, I am so happy to have re-read 'An Equal Music' as it disclosed so much that I had missed the first time.
For instance, Michael lives at Archangel Court. Archangel Michael, the leader of heavenly legions against Satan, or "shaitan", "he who leads humanity astray", and the prince of Hell. Coincidence? With Seth, not likely. A second reading reinforced the living 'hell' in the mind of agnostic Michael in his punishing obsession for the devout Catholic Julia. It calls to mind John Milton's 'Paradise Lost' in which Archangel Michael does battle for God in the Angelic War and wounds Satan. The idea of something being "lost' and "found" (and sometimes "lost" again) is another thread in this rich tapestry: Julia "lost", "found" and inevitably "lost to Michael; Julia's own inexorable loss of hearing; the precious record, found after much searching, of Beethoven's string quintet arrangement (Opus 104) of his early C minor Piano Trio, Opus 1, number3; Michael's other 'love', the 270- year old Carlo Annibale Tononi violin presented to him by a patron but disputed by her family after her demise; Michael's "loss" of his voice as second violin in the Maggiore quartet). Biblical allusions constantly slink in, serpent-like, tangentially or directly. Paradise was "lost" through the work of Satan (in "serpentine" form).
Another wonderful Biblical reference surfaces at the end of a heart-rending search by Michael for Julia after a fleeting (and this is another motif, the concept of "flight" and "to flee", the derivative connotations of the musical word "fugue") glimpse of her on a bus on a busy Oxford Street. In the frenetic pursuit of her, he loses his newly-found and purchased record as well. Seth ends this episode with the line "Under the arrow of Eros I sit down and weep." This is a clear, direct reference to the beginning of Psalm 137: "By the rivers of Babylon, There we sat down and wept, [When we remembered Zion]." The psalm is also referring to a loss, of the Jews of Judah of their freedom, and taken captive to Babylon. As if to confirm this, Seth mentions Bach's choral prelude "An Wasserflüssen Babylon" in the very next chapter.
Seth may also be referring to Paulo Coelho's book title "By the river Piedra I sat down and wept" published five years before Seth's novel, and which also is inspired by the same psalm, and in which the protagonist reconnects with her childhood sweetheart after a separation gap of similar duration (eleven years in Coelho's book, and ten in Seth's).
There are clues in the further, unquoted verses of Psalm 137 to what turn Seth's book will take. Verse 2: "There we hung up our harps on the willow trees"; and verse 4: "How can we sing the Lord's song in a strange land?"
Perhaps I am reading too much into this, but could this be hinting at Michael's grief-stricken, worsening panic attacks, 'seizing him up' and effectively silencing his violin in the quartet milieu where he had found his niche, the grief and panic brought about first when he realises Julia will no longer play with another musician let alone himself on account of her alarming decline in hearing; and furthermore when she decides to play Bach's Art of Fugue in a solo piano recital at Wigmore Hall, a work she had expressly said she wouldn't "ever play for anyone but you"?
The reference to love in the "arrow of Eros" at Piccadilly Circus is of course, self-explanatory.
Another enigmatic Biblical string of quotes in a single sentence: "For better or for worse, unto us a child, ashes to ashes." It seems to sum up the life of Michael's deceased mother.
Much is made also of light: the light in Michael's apartment, the light in Venice; Julia's six-year-old son Luke helpfully tells Michael that "My name is Lucius, actually", and so is his grandfather. The Latin meaning of Lucius is Light. And when Julia slips a letter through his door, confirming what Luke had inadvertently blurted out to Michael about her condition, "the morning light" falls on it. Piers Tavistock, Michael's first violinist colleague in the Maggiore, talks about "the morning light" reflecting into his basement flat, and then refers to the light in Venice. The Latin translation of "the light of the morning" in Job 11:17 gives us "Lucifer", and although it has no reference to the fallen angel in this context, the oblique allusion to forces of Light and Darkness is never too far away.
The unique implications of light and darkness in the world of the deaf are brought out when Julia barges into Michael's apartment one morning: "It's too dark. Roll up the blinds [double entendre here clearly intended, a reference to the sense of sight and its absence]. I can't see anything. And I can't hear anything." Julia would need adequate light to be able to lip-read, without which she cannot in effect "hear" what is being said.
Seth is a master at wordplay as well; Piers finishes his remark about the light in Venice and genesis of the Maggiore quartet there by looking down at his lighter. And early on in the book, at a quartet rehearsal in violist Helen Tavistock's house, (into which "the afternoon sunlight slants in"; this is a much happier time for Michael), Billy is introduced to us as "a wonderful cellist, light and profound".
In further wordplay, Billy is rightly described as "the rock on which we rest", as he is "the base of our harmony." But it is the first violinist Piers whose name means "rock or stone" in Greek.
The word "serpentine" with a small S becomes a descriptive adjective for Julia's afflicted cochlea (inner ear apparatus) and the F-shaped sound-holes of Michael's beloved Tononi violin.
In Michael's fervent mental thank-you letter to his now-deceased benefactress Mrs. Formby, who ensures that the violin remains his in her will, he says "Both your friend and your fiddle thank you – from soul and soundpost respectively. In his Tononi's 'native' Italian tongue, 'soundpost is 'anima' which means 'soul' as it is such a vital component of the instrument.
Michael's early Saturday morning routine of becoming a Water Serpent (ie swimming in the freezing waters of the Serpentine in wintertime) is something Seth knows first-hand from his own London years.
As would be expected, literary quotes abound; not only in references to Schubert's Lieder (which Michael in the book, and Seth in real life, love), with the text of poets like Heinrich Heine set to music, but English poets such as Shelley, Alfred Lord Tennyson and, centrally, George Meredith. Meredith's The Lark Ascending was the inspiration for Vaughan Williams' eponymous composition, a 'romance' for violin and orchestra, and Michael's introduction into the world of violin-playing and music-making courtesy a record Mrs. Formby plays for him as a boy. The composer is believed to have attributed an Eucharistic metaphor for the risen Christ in the soaring of the bird. Spiritual, literary, musical and metaphysical meanings get interwoven in Seth's writing.
Only a poet of Seth's calibre can get away with humorously calling Wordsworth a "stodgy git", and Shelley a "gushy twit", even if he uses Michael's thoughts as a vehicle for this expression of opinion.
Other birds with all their symbolism when applicable become motifs as well: nightingale, robin, magpie, pigeon, crow, gull, parrot, peacock, phoenix. So do flowers and plants: tulips, wallflowers, pansies, camellias, wisteria, chestnut and plane trees. Luke's playmate is a dog, Buzby. After one reference to Buzby, when Michael is invited to Julia's house and garden, a few sentences later we hear mention of a sound-alike aural term "bee-buzz". Is this a reference to the conclusion of Tennyson's play The Foresters, where Maid Marian sings to Robin Hood "The bee buzz' up in the heat, 'I am faint for your honey, my sweet?'" Or to another hellish sound-alike, 'Beelzebub'?
Interestingly, Michael thinks of Schubert Lieder lyrics in English in London, and they revert to the original German, Schubert's 'native' tongue, in Vienna, the city where the composer spent all his life.
Inevitably, in a book about deafness afflicting a musician, there has to be a mention of Beethoven and Heiligenstadt. Indeed, Julia similarly copes with her circumstance with admirable acceptance and positivity.
Motifs give the book a sense of unity. The rain for example, figures prominently in various places including the very beginning and the end of the book. It begins and ends at the Serpentine. At the end, "The rain has washed my earlier tears away".
Indeed, if there is one criticism of Seth's masterpiece, it is that one senses, even if one cannot know for sure, that it will end in tears. Julia's progressive deafness will necessarily curtail her career as a musician when it comes to chamber music. Her staunch Catholicism precludes her from abandoning her husband and more importantly her son. Michael is inevitably doomed, no surprise ending likely.
I counted thirty-three references to music compositions. Some of them were non-specific: Bach's English suites, his gamba sonatas, Vivaldi's Manchester sonatas, but many of them were extremely clear. In addition to the earlier-mentioned Beethoven piano trio, and the string quintet arrangement from it, we have detailed descriptions of many specific works (Bach's Partita number 3 in E major, for solo violin, Schubert's Trout quintet), and many string quartets: Brahms' quartet number 1 in C minor; Haydn opus 20 number 6; Schubert's Quartettsatz; and of course the arrangement for string quartet of Bach's 'Art of Fugue' which provides so much of the impetus for the whole book.
A more loving and detailed description of Wigmore Hall London
and the Brahms Saal in theMusikverein Vienna
has probably never ever before been written in the English language. But it is in writing about music that we see true joy in Michael's life, and sense Seth's own genuine passion come through as well.
There are too many passages to choose from, so let me cherry-pick a few.
Schubert's disembodied voice 'speaking' to the audience about his String Quintet in C major: "…you will hear what I myself would have been pleased to hear through gut and hair and wood, not merely through the music of my mind. But it was the year I walked to Haydn's grave; it was the year I died; and the earth took my syphilis-riddled flesh, my typhoid-ravaged guts, my vainly loving heart many times around the sun before my quintet for strings was heard by human ears."
An excerpt about the Haydn quartet opus 20 number 6: "..the part I like best is where I do not play at all. The trio really is a trio. Piers, Helen and Billy slide and stop away on their lowest strings, while I rest –intensely, intently. My Tononi is stilled. My bow lies across my lap. My eyes close. I am here and not here. A waking nap? A flight to the end of the galaxy and perhaps a couple of billion light-years beyond? A vacation, however short, from the presence of my too-present colleagues? Soberly, deeply, the melody grinds away, and now the minuet begins again. But I should be playing this, I think anxiously. It is the minuet. I should have rejoined the others, I should be playing again. And, oddly enough, I can hear myself playing. And yes, the fiddle is under my chin, and the bow is in my hand, and I am."
(The"part" that Michael likes best in the Haydn begins at 0:48 above)
Of the quasi-sacred, talismanic ritual of the Maggiore: "Every rehearsal of the Maggiore quartet begins with a very plain, very slow, three-octave scale on all four instruments in unison: sometimes major, as in our name, sometimes minor, depending on the key of the first piece we are to play. No matter how fraught our lives have been over the last couple of days, no matter how abrasive our disputes about people or politics, or how visceral our differences about what we are to play and how we are to play it, it reminds us that we are, when it comes to it, one. We try not to look at each other when we play this scale; no-one appears to lead. Even the upbeat is merely breathed by Piers, not indicated by any movement of his head. When I play this I release myself into the spirit of the quartet. I become the music of the scale. I mute my will. I free myself."
It becomes almost adulterous to share this ritual with someone else. After Michael bows out (pardon the atrocious pun) of the quartet, Piers meets him at a Christmas party about their search for his replacement: "They're all sort of OK, more than OK, but we couldn't play the scale with any of them."
I feel the pricking of tears behind my eyes…. I look away for a moment."
On re-reading the book, I was surprised at the vehemence of my irritation at Michael's character, his selfish self-absorption, his literal narcissism in looking at the water of the Serpentine. Why can't he just move on? I echo Julia's father's sentiment: "For God's sake Michael, haven't you hurt her enough?" But further on, one feels sorry for his pitiful ("or is it pitiable?") existence. Despite Julia's crippling handicap which has robbed her of her most precious sense, it is Michael that needs our concern and commiseration.
(An edited version of this article was published in The Equator Line, New Delhi India)